Margheritta de Ferrara
Jump to navigation
Jump to search
Photo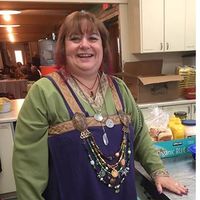 Lady Margherita de Ferrara (Ghita)
Information
Heraldry
Per bend sinister purpure and vert, a sun and on a chief Or three bunches of grapes purpure slipped and leaved vert

Lady Ghita is a first generation SCA Member who has a primary focus of Arts and Archery. She loves culinary arts and the science of alchemy; though she dabbles in embroidery and also enjoys needle felting and archery.
Lady Ghita participated in SCA events in the early 1990s in the Kingdom of Drachenwald she didn't join 2011 in the Kingdom of Atenveldt. Though at that time her husband joined as well he no longer plays.
Persona
Italian Renaissance, though she often dresses in other garb.
Awards
Offices & Positions

Barony March of Mons Tonitrus
Barony March of Mons Tonitrus - Warranted - Chronicler 7/16/2018 - 7/15/2020
Barony March of Mons Tonitrus - Warranted - Keeper of the Regalia 11/15/2016 - 11/15/2018
Barony March of Mons Tonitrus - Arts & Science Champion - 8/1/2014

Queen's Lady in Waiting
Ivan and Ianka 05/05/2018-11/3/2018
Morgan and Elizabeth 11/3/2018-5/4/2019
Competitions
Barony March of Mons Tonitrus A&S 07/21/16
Barony March of Mons Tonitrus A&S 07/21/14
Kingdom Atenveldt A&S 10/1/2011
Barony of Tir Ysgithir A&S 7/28/18
Known Deeds
Kingdom of Atenveldt
Co-Autocrat Kingdom A&S Collegium with Floki the Ginger 2019
Ran Estrella Cooking Competition 2019
Deputy Feast-Autocrat 12th Night 2019
Estrella Assisted in A&S Pavilion 2018
Estrella Assisted in A&S Pavilion 2017
Helped put together the Aten Cooks Guild sponsored Buffet at the Kingdom A&S Competition 2016 w/THL Gregoire le Gris


Barony March of Mons Tonitrus
Autocrat Thunderbolt 2019
Lead the Mons-ter Chefs in preparing much of the Buffet at Barmaids 2019
Cook Team Yule 2018
Cook Team Yule 2017
Cooks Guild-Guild Master Dec 2016-Jun 2019 (Mons-ter Chefs)
Created New Baronial Cooks Guild 2016
Gallery